Screen Marker Software for Presentation, Demo and Teaching
The screen marker Software Presentation Marker allows users to mark on screen directly and zoom into certain portions for quick explanation, so the interpretation or demonstration can be clearer. Moreover, it offers more screen marker tools – Spotlight, Curtain, Screen Digital Clock, Arrow Point, Magnification, Screen Capture etc. Presentation Marker could offer a significant help during a product demonstration or foil presentation when there is a need to make annotation on screen for better illustration.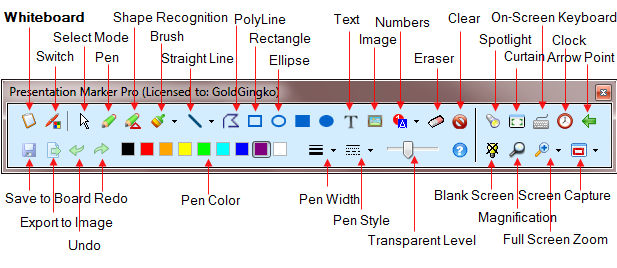 If you give a lot of presentations, product demos, tutorials, and the like, you'll definitely want to add the screen marker software Presentation Marker to your toolset.
Choose the Presentation Marker That's Right for You
Features



Presentation Marker

Presentation Marker Pro

Mark freely on screen
The screen marker tools include: Line, Arrow, Pen, Brush, Rectangle and Ellipse. And you can choose from different width pens to draw in your choice of color.
Electronic Whiteboard
Draw freely on the board. Add as many boards as you want. Set different background color.
Full Screen Zoom
Zooming screen with the keyboard or wheel.
More Screen Marker Tools
Spotlight, Curtain, Arrow Point, Screen Digital Clock, Hide output on projection screen
Live Drawing on Screen
Allows you to draw freely on the screen but not lock the screen.
Live Zoom
Zoom in and zoom out the windows but allows you to work on the screen.
Help Preside Over a Meeting More Effectively
Countdown timer. Task shortcuts. Playing background music
Grab Audience's Attention and Focus
Pointer effect. Mouse click effect. Keystrokes displaying

Free Trial

Free Tral

Only

$29.95


Only

$44.95
Portable Version
We offer the portable version of Presentation Marker, it can be installed on, and run from a USB drive. You can carry it, together with your multimedia lecture content, to the several classrooms where you teach. Plug you USB drive into the PC and then run PresentationMarker.exe.
Screenshots
Mark Freely on Screen
Draw Freely on Electronic Whiteboard




Use Spotlight to Grab Audience's Attention
Use Curtain to Grab Audience's Attention




Tech Spec
References:
Works with Desktop PC, Laptop and Tablet PC
Works with Interactive Whiteboard
Accepts digital pen input
Compatible with Graphics Tablet
Works with multiple screens
Supported OS:
Windows® XP 32- and 64-bit SP2, SP3
Windows XP Tablet PC Edition 2005
Windows Vista® 32-bit (all Editions), Windows Vista SP1, SP2 32- and 64-bit (all Editions)
Windows 7 32- and 64-bit (all Editions), Windows 7 SP1 32- and 64-bit (all Editions)
Windows 8 32- and 64-bit (all Editions)
Windows 10 32- and 64-bit (all Editions)


Version: V2.8.2
Last Updated: May 23, 2018
Windows All
For teachers and for business persons who may have to make presentations, this screen marker software should be handy.
The best software to use for mark on the screen.