TaskmgrPro Quick Tour
TaskmgrPro is a plug-in for Windows Task Manager. It enhances the standard Processes tab and Services tab and creates four additional tabs.
1. Enhanced Processes Tab
TaskmgrPro has expanded the function on the Processes tab. You can select more than one process that you want to end, then end them with a single click.
TaskmgrPro uses so called kill lists to specify what processes that should be batch killed. These lists contain process names can be added or removed conveniently.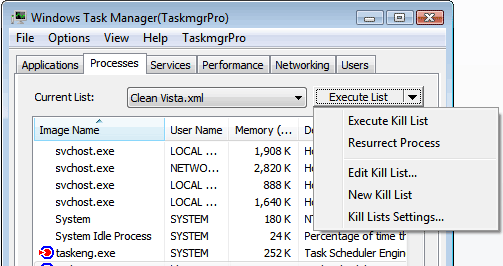 2. Additional Services Tab
On Windows XP, TaskmgrPro creates the additional services tab where you can view all installed system services with their statuses, start them, stop them and change the method they are started with. There are also tooltips with the description of each service (if there is such information for it).
On Vista, TaskmgrPro enhances the standard services tab with useful tooltips containing detailed information and additional extension submenu in the right-click context menu.
TaskmgrPro uses so called services lists to specify what service that should be batch stop or start. These lists contain service names can be added or removed conveniently.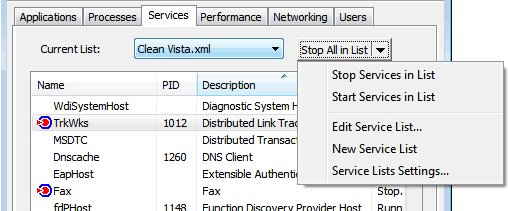 3. Additional TCP/IP Tab
TaskmgrPro uses the additional TCP/IP tab to display all established TCP connections and all open ports (TCP and UDP). There are also useful tooltips showing information about the process that established this connection. Besides, you can go to such processes immediately via the popup menu.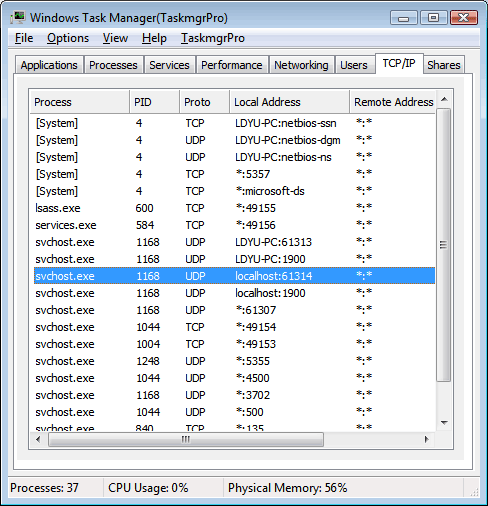 4. Additional Startup Tab
TaskmgrPro creates the additional Startup tab which provides you the possibility to manage the Windows startup procedure. It lists all Windows Startups on your computer, includes startup folders (all users and current user), all the run and services sections in registry, winlogon, BHO and Win.ini sections. You can control which programs automatically start up. Permanently delete the file from the startup list or you can simply chose to disable the item without it being deleted from the list.
5. Additional Shutdown Tab
TaskmgrPro creates the additional Shutdown tab can make your PC turn off, log off, restart or hibernate at a specified time. It works either as a countdown timer, or set up like an alarm clock.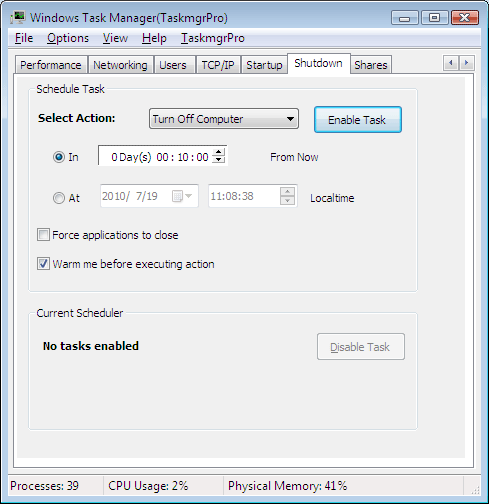 6. Additional Shares Tab
TaskmgrPro creates the additional Shares tab which provide an easy way to manage shared resources on local computer. You can use it to view a summary of connections and resource use. You can disable a shared folder without deleting it from the list and then enable it at any time.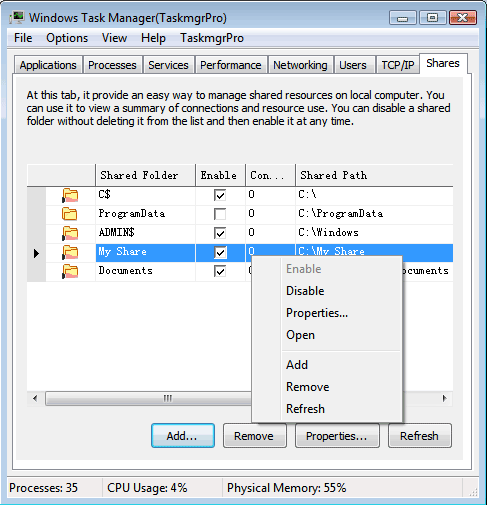 Quick info
TaskmgrPro lets you:
Task Manager Enhanced Processes Tab
End multiple processes with a single click.
Batch kill/resurrect processes in kill list.
Task Manager Additional Services Tab.
Task Manager Additional TCP/IP Tab
Task Manager Additional Startup Tab
Task Manager Additional Shutdown Tab
Task Manager Additional Shares Tab
And so much more...